Your Trusted
Orthodontic & Pediatric Dentistry in Boerne, TX
It's our mission at Boerne Orthodontics and Pediatric Dentistry to be the premier choice for orthodontics and pediatric dentistry in the Boerne and Fair Oaks, TX areas. Our friendly and professional staff strive to deliver the highest quality dentistry and orthodontic treatment while providing a relaxing environment for you and your family. We're proud to deliver a wide variety of both pediatric dentistry and orthodontic treatments, so you can rest assured that your every oral care concern can be addressed.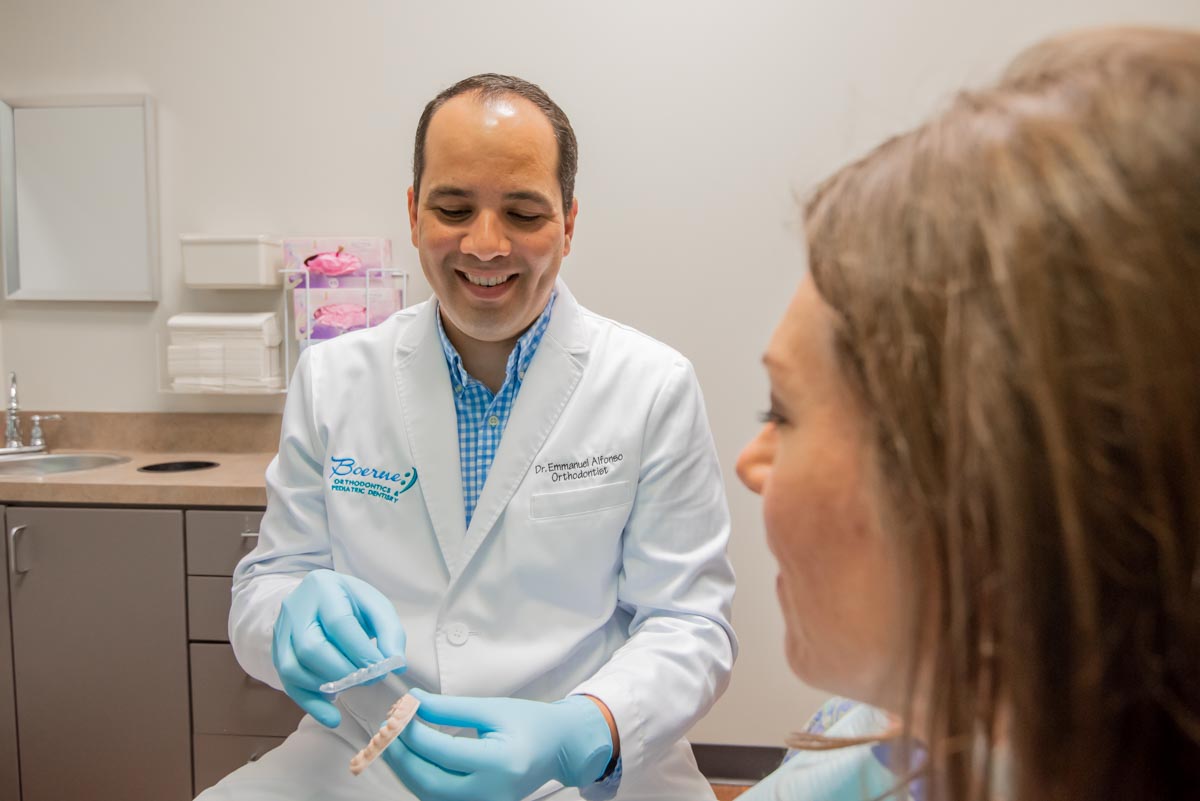 Invisalign
Invisalign
Clear Aligners
When you hear the word "orthodontics," you likely picture a young teenager with a metal-clad smile. Indeed, there are many orthodontic patients who would fit that description. However, orthodontics has greatly evolved over the past several years and there now exists an increasingly popular alternative to traditional metal braces: Invisalign clear aligners!
As the name implies, Invisalign clear aligners are made of nearly invisible polyurethane plastic. Rather than being cemented or bonded to the teeth as metal or clear braces are, these clear aligners are completely removable— for important social occasions, eating, and, most importantly, for brushing and flossing teeth. Some other advantages of the Invisalign system are:
Improved Oral Hygiene:

 

With an orthodontic appliance that is removable, you will be able to clean your teeth much more easily than if you had metal braces.
A Discreet Look:

 

If you consider your orthodontic treatment to be a private matter, or simply feel that metal braces don't fit with your self-image, a practically invisible form of orthodontic treatment is the perfect solution.
More Dietary Choices:

 

To protect metal wires and braces, some dietary modifications are necessary with traditional braces. With Invisalign clear aligners, you can still bite into a crisp apple or a juicy steak!
Comfort:

 

The soft, flexible material of which Invisalign is made will not irritate the soft tissues of the mouth, as metal wires and braces can.
Teeth Grinding Protection:

 

If you have a teeth-grinding or clenching habit, clear aligners can function as thin nightguards that will protect your teeth from excessive wear.
Clear aligner technology has been improving over the years and can correct many malocclusions that once would have been too complicated for this form of treatment. However, there are still some situations for which traditional braces would be best. Your trusted children's orthodontist at Boerne Orthodontics and Pediatric Dentistry would be happy to discuss this in detail with you if you have any questions.
Aligners
Caring for Your Teeth
During Invisalign Treatment
As mentioned above, one of the main advantages of the Invisalign system is that the trays can be removed for easy cleaning— so please don't neglect to clean your Invisalign trays! You'll need to brush your teeth after every meal or snack so that food and plaque don't get trapped in the aligners, which could promote tooth decay and gum disease. You'll need to regularly clean your aligners by gently brushing them and then rinsing them with lukewarm water.
Please also keep in mind that, while wearing Invisalign clear aligners is very different from wearing braces, the importance of retaining your post-treatment results is exactly the same. You'll want to be sure to wear your retainer(s) exactly as prescribed after your treatment is completed in order to protect your investment in a beautiful, healthy new smile!